Title: Red Steel #2: Alien Mayhem! Part 1


Author: Rabbitearsblog

Universe: X-Men

Rating:  T -  For strong violence


Summary:  As Colossus becomes the vigilante "Red Steel," many events start unfolding including more alien attacks, Nigel Faust's plan coming to light and the X-Men soon discovering about the mysterious Red Steel!

Notes: Please be gentle with the criticisms! :D 
 
____________________________________________________________________________________________________________________________________
See my previous "Red Steel" stories:
Part 1
Part 2
Part 3

Prologue:

 
The story of "Red Steel" began when Piotr Rasputin, also known as COLOSSUS, was on the run from the law.   Piotr's life went spiraling out of control after the events of him being possessed by the Phoenix Force along with his fellow X-Men members Cyclops, Magik, Namor, and Emma Frost as they all caused destruction and mayhem in their powered forms.   This then led to the Avengers chasing after him and his teammates to put them in justice. While in hiding, Piotr noticed that strange aliens were attacking New York City and what was even more unusual was that a man named Nigel Faust, who was the representative of the Natural Resources Division and commander of the Alien Demolisher Army, had shown up saving New York City from the alien invasion.   However, Piotr soon becomes suspicious of the so-called savior Nigel Faust as the aliens suddenly showed up around the same time when he showed up.   Piotr then decides to sneak into Nigel Faust's building to learn more about him, but he was soon caught and thrown out of the building.   After that mishap, Piotr sees some aliens attacking the city again and as he rushes over to fight them, he meets up with a mysterious man named Jerome Brown who he instantly becomes fast friends with.  Meanwhile, Piotr sees that the Avengers are gaining up on him and he had to come up with a plan to hide from the Avengers while maintaining his dedication to protecting people.   It was then that Piotr decided to become the mysterious vigilante "Red Steel" who is a costumed crusader who protects the people from forces of evil while protecting his true identity from the law.

Chapter 1: Spooky Revelations

It was a dark and cold night in New York City and everyone was asleep in their beds, dreaming of the daily activities they must endure the next morning.   One man however, was not asleep like the other citizens of the city and instead, he was roaming the dark streets of New York City as he had just recently moved to New York City and he wanted to get better acquainted with the city by exploring its streets at night.   Now, most people would believe that this is a truly idiotic thing to do for there were burglars and other horrifying things lurking about the night.   But, the man didn't care about all those things as he hurried along the streets to get back home after exploring the outskirts of the city.   The young man was just getting near his apartment, when he heard a low growling sound coming from behind him.

"Who's there?" the young man asked nervously.

He looked around the streets, but saw no one.   With a nervous shrug, the man once again turned towards his apartment when he heard the low growling sound again except this time, it was much closer than before.

"Alright, look! I'm not playing any games tonight so whoever you are, you better show yourself before I get angry!" shouted the young man at the air.

No sooner than the man spoke those words, then a large, dark, slimy figure jumped out from behind a building and started clawing at the man.   The man's cries, which were filled with terror and pain, echoed throughout the streets of New York City.   But, there was no one to help the young man, no one to hear his screams of terror…

Once the dark figure finished his work, he got off the man and started walking towards a flagpole and put something up on the flagpole. Then, the figure started walking down the streets looking for more prey to torture.   After the figure left, the man was lying on the ground, but all that was left of him was his bloody, skinless body as his skin was hanging off the flagpole…

The next morning…

In an old abandoned building, Piotr woke up and as he struggled to get off the mattress, he realized that he had a bad ache in his back.  

"Oww… boize moi, it is getting harder to sleep on this mattress every night!   But, I guess that is the life of a fugitive, yes?" Piotr said to himself while rubbing his back.

Piotr finally got up and started walking over to the other side of the building and saw a red costume on the wall near the entrance.

"So, this is how everything will be for now on, yes?   It is funny, just yesterday I was on the run from the law with no place to go.   And now, I think I have finally found my identity!"

Piotr picked up the costume and looked over it for a few minutes. Then he said to himself, "It feels so strange that I am finally taking charge of being a hero (or a vigilante, whichever makes sense at the moment).   I have never done anything on my own before.   It makes me feel so…alive!"

Piotr smiled broadly at the costume and put it back on the wall.   Then, he grabbed his cloak and started walking out towards the city.   As Piotr carefully walked down the street, he came across a hot dog stand.   Piotr's stomach then growled and he said to himself, "I am so hungry.   But I do not have any money to get one hot dog.   I wonder…"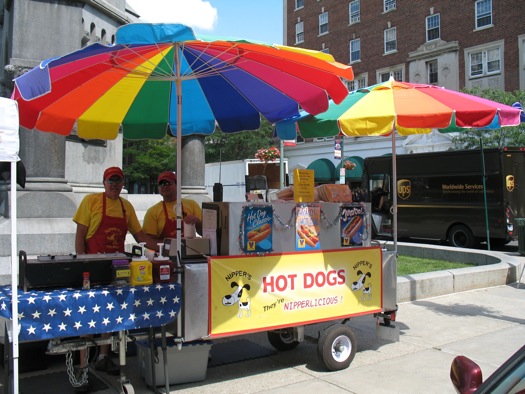 "Hey, Mac! I like to order three hot dogs!" called out a happy voice.
Piotr turned around to see where the voice was coming from and he saw the face of his old acquaintance, Jerome Brown, coming up towards the hot dog stand!
"Jerome! What is he doing here?" asked Piotr to himself.
Jerome then quickly went up to the hot dog stand and took the three hot dogs he order and suddenly saw Piotr standing to the side.
"Oh, hey! I didn't see you there!   Would you like a hot dog?" asked Jerome.
"Umm…well I…" Piotr's stomach suddenly growled and he looked at Jerome in embarrassment.
"Yep, I definitely know you want a hot dog! Here you go!" said Jerome, offering a hot dog to Piotr.
Piotr took the hot dog and started eating it.   Jerome then started eating his hot dog and said to Piotr, "Hey, do you want to walk around the city for a little awhile with me?"
Piotr looked at Jerome and said, "Well, I could.   But as you can see, I am not really wearing the most attractive type of clothing." Piotr pointed at his cloak to prove his point.
"No problem! We'll just get you some fresh clothes for you to get comfortable in!" said Jerome.
"New clothes? But what about…" Piotr began.
"Don't worry about you being a fugitive.   As long as we keep low, no one will even notice you," whispered Jerome.
Piotr agreed and then followed Jerome to the shopping mall without being seen by any of the customers.   While inside the store, Piotr tried out several different outfits and found the perfect outfit for himself: a white T-shirt and blue jeans.   After Jerome paid for the clothes, he and Piotr walked out of the store together and towards a Starbucks restaurant. As they sat down to drink their coffees, Jerome asked Piotr, "So, what's your story?"
Piotr looked up at Jerome and said, "Excuse me?"
"Well, I pretty much told you my life story the last time we met. So, I like to hear your life story," said Jerome.
Piotr looked down at his coffee and then said, "Well, my life story is extremely long, so I will just explain about what had just recently happened to me.   So you know that there were reports of the Phoenix Five overtaking the world and trying to make it a better place. Well, I was apart of the Phoenix Five since the Phoenix Force overtook our bodies and made us do all of these crazy activities.   Before that though, I was also an avatar of the Cyttorak, which I lost when the Phoenix Force took over my body.   But now that the Phoenix Force has vanished, I am back to normal, but I am on the run because of my crimes as a host of the Phoenix Force."
Jerome looked at Piotr for a long time and then said, "But that's not fair! The Phoenix Force overtook your body.   You had no control over your actions! So you can't be condemned for being possessed by some cosmic entity!"
"Maybe and maybe not.   But since we started fighting with the Avengers (although I do not know why we could not have just discuss about what to do with Hope Summers instead of fighting each other for her) I am not surprised that we are on the wanted list," said Piotr sadly.
"So you've fought with the Avengers!   What does that have to do with you guys being possessed by the Phoenix Force and being blamed for the actions of a cosmic entity?" said Jerome indignantly.
"Well, it is a bit difficult to explain. However, anything dealing with the Phoenix Force has never been easy to explain," said Piotr.
Jerome then sighed deeply and asked, "Well, is there anyone you know who is willing to defend you?   Any of the X-Men members?"
"Well at the moment, no.   I cannot ask the X-Men for help because I do not want them to get in trouble for protecting me.   But also, we have been very…distant with each other ever since the incident with the mutant population dwindling.   I mean, the mutant population is restored and everything, but the X-Men is still separated and I do not know how to bring everyone back together again," said Piotr sadly.
Jerome looked down and asked, "Well, have you've been friends with the X-Men for a long time?"  
"Yes, for many years we have been close to each other," said Piotr.
"Then, why would they let something like this get between you?   If you have been an X-Men member for years and you've been friends with them, then they'll have to defend you no matter what happens!" said Jerome.
"I wish it was that easy," said Piotr crestfallen.
Suddenly, a news bulletin came up on one of the flat screen TVs hanging on the wall in the restaurant and a news woman reported:
 

  "Hello ladies and gentlemen!   This is Sharon Whittner, reporting live from the Morning News and we have some tragic news indeed.   There has been a report of a horrific murder last night in the northern end of New York City.   A young man was seen lying on the ground with his body being skinless and his skin hanging on a flagpole nearby.   Authorities believe that the same aliens who had attacked the city days ago were responsible for this terrible act.  Representative of the Natural Resources Division, Nigel Faust, is set on trying to bring in more alien destroyer armies to take down the aliens in the city and put an end to this tyranny.   Sharon Whittner reporting from the Morning News."
Both Jerome and Piotr looked at the TV screen in complete shock when suddenly, Jerome's beeper started beeping and he reached down to shut it off.   Jerome then told Piotr, "Sorry about that, I have to go and take care of some business right away."
"Umm…yes, I must also take care of some business myself," Piotr said quickly.
"So until next time then?" asked Jerome.
"Until next time." Said Piotr, shaking Jerome's hands.
After Jerome left, Piotr then ran out of the restaurant and straight towards the abandoned building to get some things.   
 
Next Story: Part 2