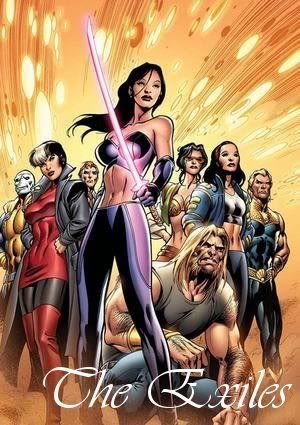 http://www.comicvine.com/myvine/the_exiles/


The Timebreakers were an alien race of atleast two different speices. One short and bug-like, referred to as worker caste. The other was a bit taller and resembles a cricket.
The Timebreakers somehow found their way to a mysterious crystal palace called the Panoptichron and while studying it they accidentally damaged several realities, setting off a chain-reaction. Being pacifists themselves they got the idea to gather heroes from various realities and basically force them to fix the damaged time-lines, and that is how the Exiles group was born.
The very first heros they gathered was Freindly Spider-Man and The Drifter. Two squads would be formed, both made for their own mission. Due to Drifters violent nature, He was placed as leader of "Team X", The renegade killer squad of the Exiles. Team X's priorities is are to invade physical contact if needed and are more of an offensive team.
Due to Freindly Spider-Mans more calm and laid back hero persona, He was chosen as the other leader of the squad, "Stronghold." Stronghold would work more as a defensive team, but will move to offense when necessary. They concentrate more on recovering, saving, gathering, and more.