This is actually a game/battle, but since it contains no comic characters, it has to be in Off-Topic.
(inspired by Dane's Zombieworld thread)
Scenario
The Zombie Apocalypse has struck, and the virus/epidemic has spread throughout the nations. You and your 2-4 Comic Viner friends have gathered in real life in a base and you have been living there for a couple days, but did not bother barricading it since there are not many zombies in the town. However, in the television, a news caster says that swarms of zombies are coming into your location on all directions in a matter of 5 hours. You cannot transport yourself out of the place in time, so you must stay put and barricade yourselves.
You must survive a total of 10 days/nights.
Each night 1,000 Zombies will attack.
Your plan must cover the following :
How you will gather enough food in 5 hours to survive for 10 days/nights.
Your apparel. What armor will you have? What are the pros and cons of it?
What extra supplies will you get? (Ex. Medical supplies, flashlights, etc.)
What base or save haven you choose.
What defenses/barricades you will install into your base.
How long and how efficient would those defenses do against the zombie horde(s)?
How your 3 chosen weapons will be efficient against zombies, and how you will use them.
Your basic plan and strategy in surviving the hordes.
Emergency plan when your defenses get overwhelmed.
Rules
The zombies are only Walkers.
You will have infinite/unlimited ammo, but you still need to reload.
You can only have a 1 Long Range Weapon, 1 Med-Range Weapon, and 1 Short Range Weapon
Select 2-4 other Comic Viners to assist you in your survival.
Describe your base/safe haven, and list it's barricades.
Post a detailed plan on how you will survive.
The higher the stakes and difficulty, the better your score will be.
No stomp weapons.
Scores
1 - Not only did you not survive, but you failed miserably.
2 - You didn't survive, but you certainly gave a fight before going down!
3- You won, but it wasn't that epic and was too easy for you.
4- You survived, and it was uber epic as you hacked down at the zombies!
5- You are the ultimate zombie killing machine, as well as your buddies!
Reference
If you're having a hard time choosing, here's some basic references.
Melee Weapons







Armor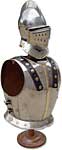 Guns
Explosives
Winners
@TheSwordsman
@laflux
@Kevhunt
@Strider92