Yuga Khan, who's just overthrown his son, Darkseid, and rested Apokolips from him, has to deal with a mad titan, by the name of Thanos, who's come to take care of Darkseid re: a grudge the two held, but since Khan has done the job for him, he decides to lock hornes with Khan...... It's Khan vs Thanos on Apokolips, with no outside interference, just the two head to head with last man standing declared the winner!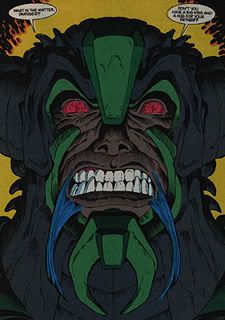 Yuga Khan is a DC Comicssupervillain. He first appeared in New Gods volume 2 #17 (June 1990). Khan was former patriarch of Apokolips, whose misguided attempt to unravel the unknowable mystery of the Source left him a helpless captive for countless thousands of years. Yuga Khan's wife Heggra later died by the hand of their son Darkseid, who took control of Apokolips himself. Using his planet-rending powers, Khan eventually freed himself; he then returned to Apokolips where he easily overthrew his son Darkseid from the throne - until he was reclaimed by the Source in the Promethean Galaxy. 
Yuga Khan was the most powerful New God. He possessed enormous physical prowess, the ability to traverse hypertime, and could manipulate The Source itself.