After wading through half a dozen Battles between Goku and Superman, I've decided to write this as a way of convincing other forum members to stop using this scenario. We all know why people want to ask this fight: They are icons of their writing format ( anime and comics respectively) and both have very similar ideals and some personality traits. But that is where the line is drawn, and I'm tired of people arguing back and forth without know all the facts. Let me remind you all that I love both characters, but they are too different for this to be considered anything but a mismatch.
First item on the list: Goku is only equal to Superman in his BASE form- I know some people will disagree but in his base form, Goku has feats that make him equal to Superman (In pure raw power, fighting skill and abilities is debatable) . However...
vs
Any Super Saiyan Goku is stronger than Superman- People constantly put down "SSJ 1 Goku vs Superman", or even "SSJ3 Goku vs Superman". Guys, stop. The Super Sayain form is not just appearance change but Multiplication in all forms of power, giving Goku the advantage in ALL areas.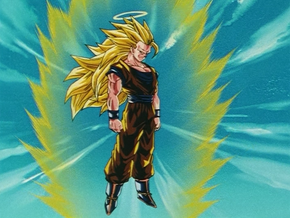 vs?
Goku can fight in (possible) FTL speed, Superman can NOT. - This is a common misconception for Superman because while he CAN fly in FTL speed, he does not have FTL COMBAT speed.
Goku is a (Debatable) galaxy buster - Now this one may be a stretch, but while it's never shown him destroying Galaxies, it's been stated by many characters that he and his (later) enemies could destroy whole Galaxies. What we do know for a fact however, is that Goku could destroy planets easily in ANY form
Well this is the end of my post, feel free to debate or add more stuff to this if you'd like. Once again I love both characters, but this is such a bad mismatch.