@laflux
Captain America (Standard Equipment)
Ultimate Captain America (Standard Equipment)
Venom (Flash Thompson) (Standard Equipment)
Spider Man (Pre-Superior)
Captain America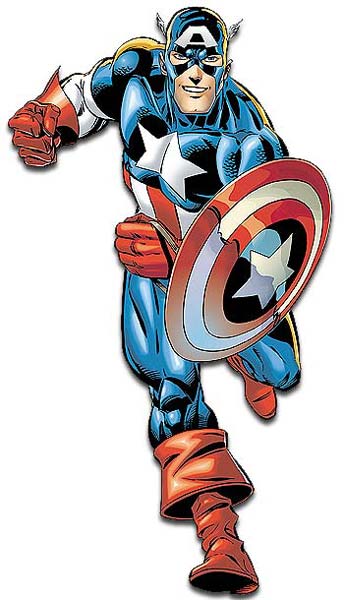 Ultimate Captain America
Venom (Flash Thompson)
Spider Man (Pre-Superior)
vs.
@Esquire
Amadeus Cho (Golden Mace, Forcefield Generator)
Classic Cable (Guns, Knife, Grenades)
Deadshot (Standard Equipment)
Bullseye (Hawkeye Gear)
Amadeus Cho (Forcefield and Golden Mace)
Classic Cable (Guns, Knife, Grenades)
Deadshot (Standard Equipment)
Bullseye (Hawkeye Version)
Battle Conditions:
Prep: None
Morals: On
Bloodlust: Off
BFR: Off
Battlefield:
Start 200 feet apart.
Central Park, NYC, New York
High Noon
Perks:
To make things interesting, first come first serve for these perks, once a perk is chosen, nobody else can take it.
"Whelp, *hic* looks like it's time to go on a killing spree!" - One character is bloodlusted, your choice. Your team, their team, doesn't matter, they are bloodlusted.
"Look at that forecast!" - Don't like the weather conditions? Change them, night, day, stormy, snow, etc.
"The art of misdirection is my favorite trick!" - Your team starts in a 20 foot radius billow of thick smoke. The enemy team can't see your team, and your team can't see them. Smoke lasts 2 minutes, essentially, gives your team time to change location without them finding your team.
"You know what helps me survive the battle? A helmet, because I don't like being shot in the face" - You get a single vibranium helmet that is permanently stuck to one of your characters heads. It covers that characters forehead, the back of their head, etc. etc. But allows for perfect vision still. Just eliminates head shots for your opponent on one character.
"I dub thee...cannon fodder!" - There is a duplicate of each of your team mates, they run around, they do everything your team does....except they are about as fast, strong, and durable as your average comic book civilian. However, all their equipment is made out of paper machete and can't harm anybody. Essentially, they are there to confuse your enemies, and to soak up a couple shots....aka Cannon Fodder.
Thanks for reading,
Floopay