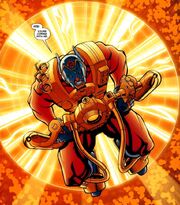 VS
Steel, Superboy, Supergirl, Strange Visitor, Eradicator
Darkseid has formulated a plot to manipulate his son once more while he is away from New Genesis, using Superman as part of his scheme. He places in Orion's mind a seed of immense hatred for Superman by giving him visions of Kal-El laying waste to New Genesis as if it were a vision of the future that must be prevented. Darkseid replaces Orion's mother box with a father box which instead of calming him down, increases his rage to the point of "bloodlust" as well as placing Kalibak's weapon, the Beta Club on his belt. Orion straps on his Astro Harness and uses the father box's Hush Tube to transport himself to Superman's secret sanctuary, the Fortress of Solitude and lays waste to Superman's robots as they signal the Superman family for aid.
Superboy, Supergirl and Steel arrive to find the Fortress in ruin and Orion in the midst of the debris, awaiting the arrival of his Kryptonian foe. Out of nowhere, the writer decides to formulate some BS plot device to resurrect Sharon Vance as the Strange Visitor and David Conner as the Eradicator who rush to the side of their fellow Superman family members to aid them in the assault against the disappointed Dog of War, annoyed that he couldn't kill the Man of Steel face to face. Instead he'd have to lay waste to the "Super Impostors" to quell his rage. Can the Superman Family stop the last son of Darkseid before he destroys them along with the Fortress of Solitude? Will Superman ever return from his hour long super sun tanning vacation?
Superfam Is In Character But Their Morals Are Off Since They Know How Powerful Orion Is, No Need To Hold Back.
Orion Is Bloodlusted
No Prep Time
Superfam Has Standard Gear, Orion Is Equiped With His Astro Harness, Father Box, And Kalibak's Beta Club
All Pre-Nu52 Versions
Incapacitation, KO, Death Count As Win
Location: The Fortress of Solitude