Pinhead
Pinhead is being backed up by the dark god Leviathan, Pinhead has a good portion of Leviathan powers and can use them in anyway he pleases. Pinhead is also given a Red Lantern Ring and has 6 Cenobites under his command who are also given Red Lantern Rings. Pinhead can turn a random human into a Cenobite every 10 minutes and they are automatically given a Red Lantern Ring.
Freddy Krueger
Freddy Krueger has absorbed thousands of souls which add on to his powers, he is given a Yellow Lantern Ring at his disposal. Freddy has induced a world wide fear that has increased his powers significantly as well.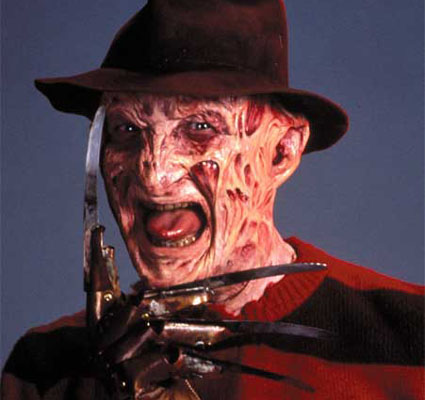 Pennywise
Pennywise is in his Clown form and is given a Yellow Lantern Ring along with intimate knowledge of the DC character's fears and history.
Jason Voorhees
Jason is upgraded to his Jason X form and given a Black Lantern Ring.
VS
All DC characters are at their New 52 incarnation and have access to their standard gear and equipment.