VS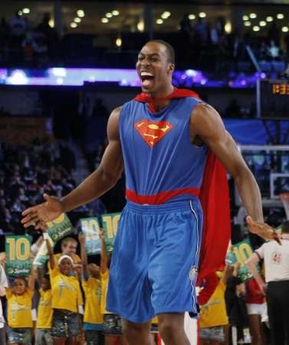 Dwight Howard has Supermans abilities and the Los angeles lakers
Dwayne Wade has all of batmans abilties and gadgets as well as the miami heats.
Both have current rosters. And both are coaching there team during time outs.
***Dwayne Wade has only can use kryptonite once per qtr and it will only drain Dwight's abilities rather than stun him.
Who wins in a game of super basketball?
Will Dwight Howards newly found strength defend and crash the boards to get him his first ring?
OR
Wil Dwayne Wade's intelligence and savy gadgets help him and his team on the court and bring the 2012 championship a repeat championship
Who will lead there team to victory?????