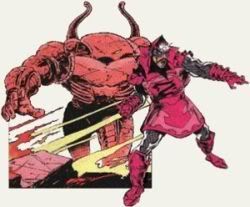 Cyttorak existed as a deity (or demon) who received worship on Earth until under unknown circumstances he was banished from the Earth. He took up residence in a dimension known as the Crimson Cosmos, where time did not pass. Cyttorak has also been refer as an Elder God.
Powers and abilities
Cytorrak exists as a deity with enormous magical power. He has provided power to the titanic Juggernaut through an enchanted ruby, as well as provide indestructible bands (the Crimson Bands of Cyttorak) to Doctor Strange to use as a shield or to restrain enemies. In regards to the ruby, it has withstood being thrown into orbit by the Juggernaut, as well as re-entry when it was bumped out of orbit by Nova.
Stevie, a spoiled little boy from the Midwest, managed to use the Cyttorak Ruby to spectacular effects unimagined by Cain Marko, starting with using it to blast Marko. He used it to monitor events far away with his computer (presumably he utilized the ruby to enable him to access the feed of security cameras) as well as using the ruby to relay a message to the East Coast using a non-operational computer on the West Coast. Furthermore, he could alter mirrors so that the original Human Torch's flame was reflected and enhanced back against him. Even stranger, Stevie could animate inanimate objects, which could also turn intangible. These objects included wax statues, some which resembled monsters, others that resembled Spider-Man, Doctor Doom, Cable, etc. However, the animated statues tended only to have diluted copies of the original's abilities, and tended to move slowly.
As well, Cyttorak has demonstrated the ability to create life (Dr. Strange (vol.3) #44), when he created an entire race of elves out of magical energy simply so he could have somebody to worship and adore him.
                  vs
According to Norse myth and comic continuity, Odin is the son of Bor (father, one of the first Asgardians) and Bestla (mother, a frost giantess). Bor and Bestla also have two other sons, Vili and Ve. With the aid of his brothers, a young Odin battles and defeats the fire demon Surtur. Odin becomes ruler of Asgard, and eventually falls in love with Gaea, in time becoming the father of the Thunder God Thor. Odin is also the adoptive father of Loki, a child of Giant blood whose father Laufey is killed by Odin in battle. Despite Odin's best intentions, his sons become bitter enemies, with the feuding often requiring Odin's mediation
Powers and abilities
Odin possesses all the conventional attributes of an Asgardian god, such as immunity to all known diseases and greatly extended lifespan, including superhuman strength that, despite his advanced age, is much greater than that of most other Asgardians, as well superhuman stamina that allows him to physically exert himself for much longer periods of time than a human being. Odin's body is also highly resistant to physical injury. He is capable of withstanding great forces and powerful energy blasts without sustaining injury. If injured, Odin is able to recover with superhuman levels of speed and efficiency.
Odin is capable of manipulating magical energy - referred to as the Odin Power - for a number of purposes, such as vastly increasing his size to over a 1000 feet, endowing people or objects with powers, transporting the entire human race to an alternate dimension; compressing the population of an entire planet into a single being, the Mangog; taking a soul away from the arch-demon Mephisto; and, by greatly increasing his size and power, even destroying entire galaxies. Odin is not, however, all-powerful. Once a year, he needs to undertake the Odinsleep - a state of deep sleep lasting for a day in which the OdinPower is recharged. During this time Odin is guarded closely as he is vulnerable.
Odin is a master tactician and schemer. In addition to feats such as preventing Ragnarok, it has been revealed that Odin was planning for the arrival of the Celestial Fourth Host for centuries.