Conditions
- Nolan has been watching some Arrow and immediately expressed disdain for Arrow, contemplating that his Batman is the better of the duo in combat. With his almighty omnipotent powers, he orchestrated a fight between these two to occur by manipulating strings of events that lead up to it.
- Batman possesses knowledge on Arrow based on what has been seen in his show when he's out in combat, Arrow possesses knowledge on Batman based on what was seen in Nolan's trilogy when Batman fought against the criminal scum with only intelligence on Batman's gadgets to be batarangs and grapple gun.
- Morals on/in character.
- Arrow has a total of fifteen regular arrows here and one grapple arrow that he uses to move down from buildings, Batman is in possession of ten batarangs, grapple gun, two spiny mini bombs (Batman Begins, used them to break through prison walls), shoe camouflaged bat homing beacon (Batman Begins), and his EMP gun he used in TDKR.
Setting
An abandoned building at the stroke of midnight that appears to be like this:
Arrow starts by walking through the door located on the right of the picture, Batman is located at where the blue monster octopus painting is which is near the middle of the picture, adhere the burgundy coloured pillar/pipe. This entire structure is lighted with a total of four 5 feet by 5 feet ambient lights that hang all over the ceiling.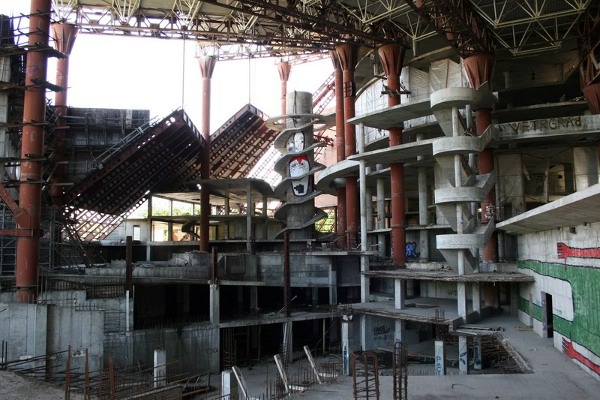 Who wins?